Construction
Prefabrication & Manufacturing
Comfort Systems USA MidAtlantic is a leader in the prefabrication of high-quality HVAC ductwork, mechanical piping, and plumbing assemblies.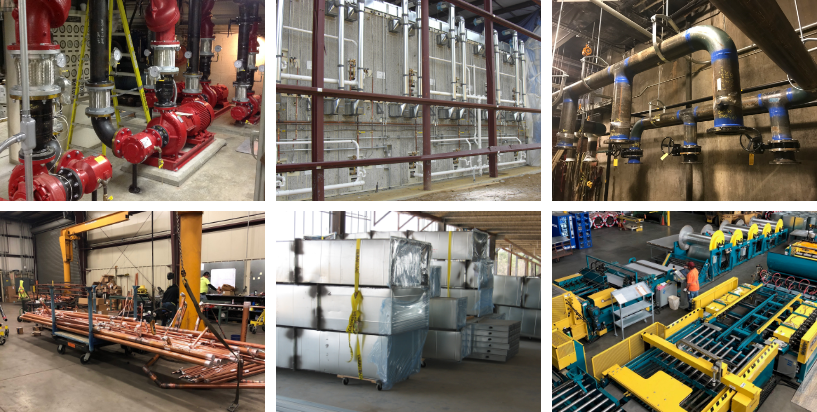 Our advanced manufacturing capabilities produce measurable benefits for your projects. We prefabricate much of what we install in our controlled manufacturing facilities in our South Boston, VA fabrication shops. This process:
Significantly reduces the construction schedule
Enhances quality through customized quality control processes
Mitigates weather related delays onsite
Improves safety
Reduces costly field labor
Each project is designed and built to meet the specific needs of the client.
Compared to typical field construction, our prefabricated process allows us to utilize the controlled shop environment and our streamlined processes to produce a high-quality product in the most efficient manner possible, substantially reducing project schedule, construction risks, and cost. By prefabricating and manufacturing customized assemblies in our shops, and then simply erecting them on-site, you can have a central energy plant or mechanical equipment room constructed and functional with up to 40% less time spent on conventional field construction.
The reduced time spent on field construction lowers customer risk by mitigating expensive field labor rates, exposures to variable field conditions, and lowers the required number of skilled field workers to complete the project.
Ready to see your project completed to your specifications?